Mahi Mahi fillets 1kg
1 kg
A wonderful meaty fish that is very versatile. Ours are wild and caught in Vietnam and come in 6-7oz portions.
In Stock
Mahi Mahi fillets
Mahi-mahi,  a Hawaiian word that means "very strong",  is a common dolphinfish. This species is found in tropical and subtropical waters throughout the world. Generally, smaller dolphin fish range from 2-5 pounds, while 40-50 pound fish are not uncommon, but don't panic it's just called that because they jump out the water like dolphins!!  approx 5 in a bag
Serve with chilled Sauvignon Blanc, a lightly oaked Chardonnay, or go for a spicy and aromatic Gewürztraminer.
Only logged in customers who have purchased this product may leave a review.
Related Products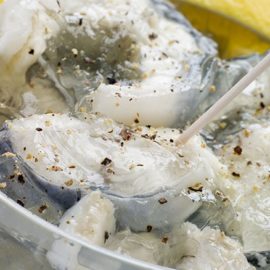 Products, Eels, norestriction, Wild