Pinks 454g
£6.95
China
Frozen
Cooked
Farmed
Pinks are an imitation of prawn made using surimi, a japanese fish paste made with fish meat, water and starches to bring you the familiar flavour of prawns without their negative attributes especially for those that have sensitivities to shellfish.
In Stock
| | |
| --- | --- |
| Common Name | Imitation prawn |
| Net Weight (Drained) | 454g |
| Fresh/Frozen | Frozen |
| Processed | Prepared |
| Country of Origin | China |
| Catch Method | Farmed |
Similar to real prawns, pinks are a great source of protein and high in Omega-3 oils, but this imitation is much lower in total calories perfect for anyone on a diet and looking to reduce their intake.
Not suitable for vegetarians or vegans. This is an option for those that enjoy the great taste of prawns but have allergies to shellfish.
Only logged in customers who have purchased this product may leave a review.
Related Products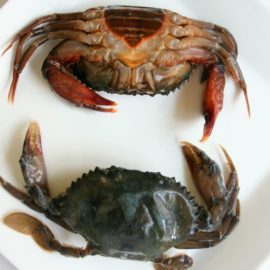 Products, Crab & Lobster