Kingfish Steaks | Wahoo 1kg
1kg
The flesh of the Wahoo is white to grey
Delicate to dense and is highly regarded by manu gourmets. The taste is similar to Mackerel though less pronounced. This has created a demand for Wahoo as a premium-priced commercial food fish in many areas such as Hawaii, Bermuda and the Caribbean.
Ours are wild 8/10 oz steaks, 4/5 in a kg bag.
Try out our recipe for Jamaican King Fish and serve with an Australian Sémillon white wine.
In Stock
Kingfish/ wahoo steaks. 8/10 oz each, 4/5 in a kg bag. Wild caught, delicious meaty flavour.
Only logged in customers who have purchased this product may leave a review.
Related Products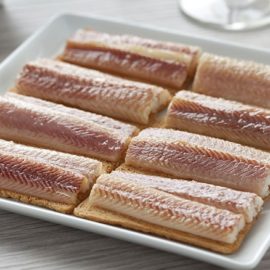 Products, Eels, Specials, Wild