Cod Fish Cakes 6
£3.95
Frozen
Reheat
UK
Farmed
6 per pack
These fish cakes are a light appetizer with a nice, crisp coating and moist cod inside. Perfect for dinner or as an appetizer for lunch! Suitable to be deep or shallow fried or even oven cooked. This is one of our more popular products so buy it quickly while stocks last!
In Stock
| | |
| --- | --- |
| Common Name | Fish cakes |
| Fresh/Frozen | Frozen |
| Processed | Pre-prepared |
| Country of Origin | UK |
| Catch Method | Farmed |
| Units in Packaging | 6 |
Cod is a low-fat source of protein that also contains high levels of iodine and is low in cholesterol. Iodine can help to prevent goiters and arthritis, so get plenty of it in your diet. Cod is also high in calcium and phosphorous which can help to maintain healthy bones.
Only logged in customers who have purchased this product may leave a review.
Related Products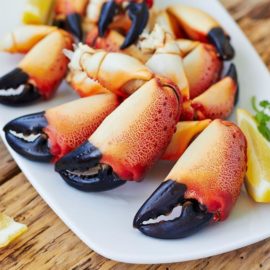 Caught In UK Waters, Products, Crab & Lobster, Wild