Crispy Chinese-style sea bream

Eileen

Serves : 2

Good source of Vitamins & Proteins

Easy

30 Minutes
Enjoy delicious Crispy Chinese-style sea bream
100g Waitrose Hom Mali Jasmine Rice

1 tbsp sunflower oil

2 x 90g sea bream fillets

2 tbsp cornflour

2 tbsp light soy sauce

1 tsp red or white wine vinegar

1 tsp honey

1 tsp sesame seeds

2 salad onions, thinly sliced diagonally

1 red chilli, seeded and thinly sliced

Steamed green vegetables such as mangetout or pak choi, to serve
Cook the rice in boiling water according to pack instructions

Meanwhile, heat the oil in a large non-stick frying pan. Slash the skin side of the fish fillets using a sharp knife, then dust with the cornflour. Fry in the hot pan for 3 minutes on each side until golden brown and completely cooked through. Remove and keep warm.

Mix together the soy sauce, vinegar, honey, sesame seeds and 1 tbsp water, then pour into the pan and cook for 1 minute to heat through.

Drain the rice and divide between two plates, then place a fish fillet on top of each. Pour over the sauce, scatter over the salad onions and chilli, and serve with the steamed greens.
Other Recipes You Might Like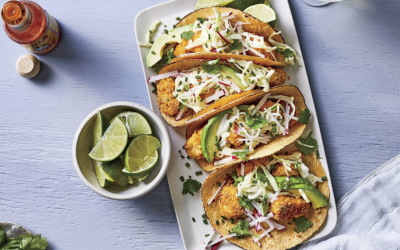 Catfish Tacos Recipe with Slaw
These oven "fried" catfish filets are just as crispy as pan-fried filets but a lot less messy to make. The tender, tasty fish is soaked...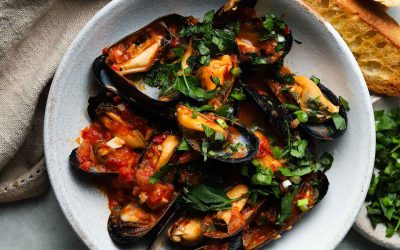 Mussels in Spicy Tomato Sauce
These mussels in spicy tomato sauce are so good (and so simple to make, hello, one pot meals!) A simple sweat of aromatics, Calabrian chili...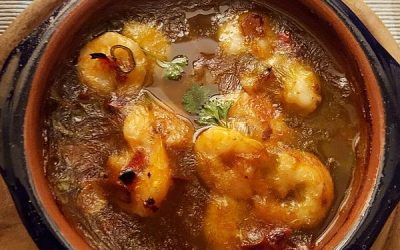 Prawns with Garlic, Oil and Piripiri
The perfect prawns with garlic, oil and piripiri recipe with a picture and simple step-by-step instructions.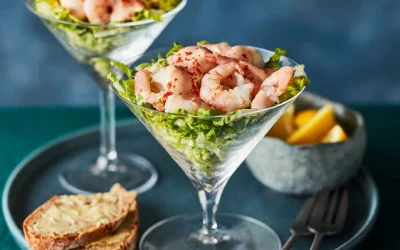 The Classic Prawn cocktail
The classic prawn cocktail makes an ideal dinner party starter. Our easy recipe is in just 15 minutes, leaving you more time to entertain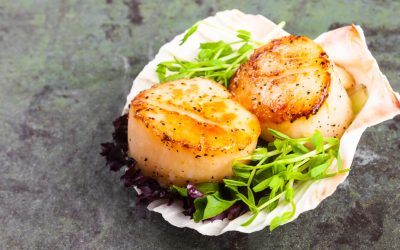 For something fancy, this is pretty easy to make. It's one of the world's most delicious dishes. It's rich and decadent, and yet still light.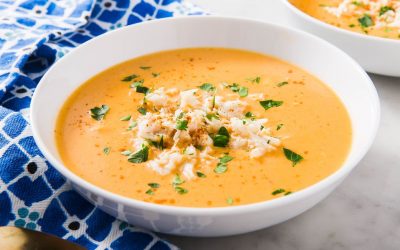 Blushing Tomato Crab Bisque
My favorite tomato soup becomes a tomato crab bisque! This spicy tomato and crab bisque is loaded with tons of veggies, smooth cream and a...